Supply Chain & Vertical Integration
Established low cost and sustainable source of extracted cannabinoids and seeds
*in applicable jurisdictions and markets Photo of Santa Marta Golden Hemp's facility in Santa Marta, Colombia.

Established and proven low-cost vertical integration
in Santa Marta Colombia

Proven, sustainable and economical cultivation of Cannabis & Hemp
2 fully licensed and commercial majority-owned subsidiaries in Santa Marta, Colombia
Organic and sustainable cultivation practices – first USDA National Organic Program certification for a hemp cultivar in Colombia obtained by Santa Marta Golden Hemp
Annual capacity of 30,000 kilograms through 480,000 square feet of combined cultivation space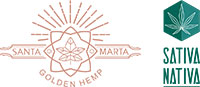 Extraction, purification, and supply of API
GMP-compliant and industrial-scale extraction and isolation capacity – with capacity of 300 kg/day
In-house QC lab to ensure the API meets EU and US pharmacopeia standards


Major highlights and milestones
30+ completed harvests
Ranked highest amongst global cannabis companies in the S&P global sustainability index
First known production, extraction, and export of CBG – a rare cannabinoid into the United States from Colombia
Commercial sales of CBD, CBG and THC under the Aureus brand with exports made into 6 countries
30+ federally registered genetics developed through the Avesta Genetica program
Commercial sales of CBD, CBG and THC seeds under the Avesta brand with first ever completed export of seeds into the United states in Q2-2020
Low Cost and Sustainable Source of Cannabinoids and Seeds
Supply Chain Business Branded as Aureus Santa Marta
Avicanna's low cost and consistent supply of cannabinoids for its finished products through in-house cultivation and extraction
Providing the global cannabis sector with input materials including cannabinoids and seeds. Exports completed to eight (8) countries.


Established, Sustainable, and Economical Cultivation and Extraction Infrastructure
Two (2) majority-owned subsidiaries in Santa Marta, Colombia, with combined cultivation capacity of 30,000 kg of dried flower per year through 480,000 sq/ft
USDA National Organic Program certified and ranked highest amounts global cannabis companies in the S&P Global Sustainability Index.
30+ completed harvest validating below $0.05 per gram cost.
Cultivating commercial crops of CBD, CBG, THC, and feminized seeds since 2020.